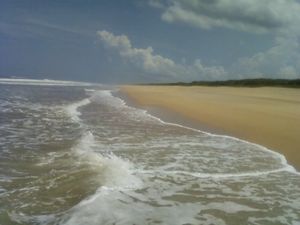 I love to visit this little spot at the beach.  It's quiet.  Solitary.   I often sit on this peaceful and secluded shore and talk with God. When I am there, time stops and the world stands still. The solitude enwraps me like a blanket as I wait for that still small voice to speak to my heart.
One of the most difficult commands we can hear and obey is the command to sit in solitude and wait. It's a command to let go of all dependency on ourselves and completely trust God, a command to be still and wait for revelation and release to come. Sometimes solitude is required to bring clarity. Sometimes it is only through solitude that the content of our hearts can be revealed to us. Other times the solitude is required to bring transformation and power. So much is learned in the silence, things that cannot be spoken, but are heard and sensed in the deepest parts of us.
We all need times of cleansing and refreshing, a moment where we can get away from the world. A place where we can reconnect with who we are...if we can quiet ourselves enough to be still and listen, we will experience life in new and wonderful ways.
With Love,
Linda